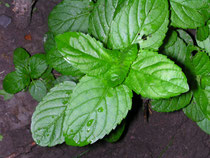 Please enjoy this recipe which I shared with my aunt recently.
Chicken Salad - serves 4
3 chicken breasts
1 cup olive oil
1 lemon squeezed
1/4 cup fresh oregano and thyme
3 cloves of garlic, chopped fine.
1/2 cup to 3/4 cup of mayonnaise
 1/2 cup chopped grapes (into quarters)
1 apple (chopped fine)
2 tbsp freshly chopped mint
salt & pepper
4 green onions sliced 
Marinate the chicken breasts with the olive oil, garlic, lemon and herbs.  Let the chicken sit for 30 minutes.  Grill the chicken over indirect heat (approx. 10-15 minutes).  Cut a piece of chicken to make sure it is fully cooked.
Add the chopped onions, grapes, apples and mint to a large bowl.  Now chop the cooked chicken and add it as well.  Season the salad with salt and pepper.  Add enough mayonnaise to combine the salad without making it dry.
Serve the salad alongside some fresh rolls.
Enjoy this salad on those hot days when it's too hot to turn on the oven!