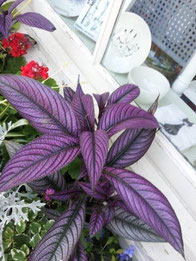 I discovered this beautiful plant recently.  If anyone knows the name of it then, please let me know.  It does fantastically well in window boxes.
I am currently giving Bella lots of reiki to cope with this intense heat.  She loves the reiki energy it makes her so relaxed.  I find regular regular treatments of reiki really help to reduce stress.  Drink extra water during your summer reiki treatments.
Wishing all of my reiki clients a wonderful summer!  Enjoy this heat wave!