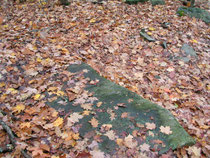 I look in the garden and all I see are leaves all over the grass.  Almost all the trees are bare.  After tonight, I suspect most trees will have lost their leaves.  Exploring nature offers an opportunity to reconnect with all that surrounds us, even when the winds are fierce.  If offers an opportunity to be mindful and to live in the present.  Enjoy these moments of reflection and search for them throughout your day.
Katsura Reiki has a few types of soap in production in preparation for our Dec 8th show in Courtice.  In addition to working on my soaps I have been providing Reiki treatiments to some family members who have enjoyed the sense of peacefulness after a treatment.
I encourage everyone to try a treatment today and to experience the serenity and relaxation that reiki offers.