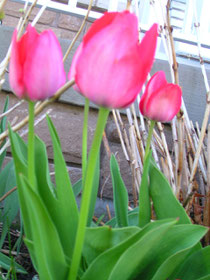 I couldn't bear the thought of a photo of snow or ice right now.  We have to be motivated and positive that spring will come!  I am not sure exactly when it will arrive but, it will.
These tulips symbolize new beginnings and growth which is what spring is all about.  I look forward to the spring and will be offering reiki level 1 classes on weekends.  Please contact me if you are interested in attending a session.  The course will be offered over 2 days.  Reiki treatments will continue to be offered throughout the year.  Please call to set-up an appointment time.
In the meantime, as I dream of spring and rain, it is time to plan the garden.  Now is the time to start those odd little seedlings that take forever to start.  It is far too early to start your veggies  but annuals and perennials would do fantastic with this extra time to grow.  I suggest you be mindful that when starting seedlings they are very weak and if you bring in new plants they may infect your seedlings.  Do not be discouraged.  I often grow marigolds as a sacrafice plant and let the whitefly and other pests attack this.