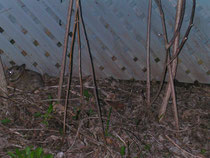 Please join Katsura Reiki and other handmade artisans at the Peterborough library at Saturday May  10th 11am-4pm at Peterborough Public Library (345 Alymer St North). It will be a chance to experience the unique and beautiful creations that are handmade by individuals within your community.  We have been working at creating new products for our customers-from himilayan bath salts to chocolate parfaits..I am sure you will enjoy our creations.
As Mother's Day approaches, now is the time to find the perfect gift, or even an appointment for a one hour reiki session-which mom will love.  
Now I have some baby bunnies in the garden... a chance to photograph them is rare as they are always on the go, with mom watching them constantly.  As the garden debris is cleared, one is optimistic that spring truly, is here!