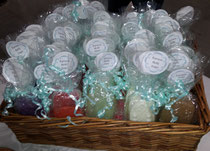 Katsura Reiki welcomes wholesale orders.  Our minimum order is a case of 24.  We look forward to new opportunities for our soap business.
As for Reiki news these warm months are a great opportunity to offer your pets extra reiki sessions.  Often a couple of minutes of reiki are all your pet needs to relax.  I find reiki is particularly useful when my cat has the odd mat.
At Katsura Reiki we are thankful for the wonderful opportunities to sell our soaps at our recent craft shows.  We will continually develop new products to delight our customers.
If you have sensitive skin and would like us to make up some unscented soaps then please contact us directly. We can customize an order of any size to accommodate your soap needs.  Scent-free and colour free is an option at Katsura Reiki.