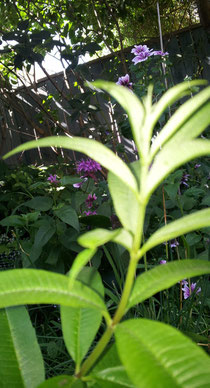 Now is the time to get into the garden and start harvesting all your basil, lemon verbena and any other herbs you want to enjoy in the colder months.  Lemon verbena is a wonderful herb and can be added to cakes for a lovely lemon flavor.  
Enjoy the wonderful weather and find some 'garden time'.  Now is the time to sit in the garden and just to relax and enjoy the wonderful plants in bloom.  Taking time out this way is beneficial and offers a chance to connect with nature.  I often take my yoga practice outdoors to enjoy the benefits this offers.
Level 1 Reiki classes will be offered in September.  Please contact me for course dates.  You will have plenty of time to practice Reiki and will have a take home guide which is helpful when learning.  The class will follow the guidelines of the Canadian Reiki Association.