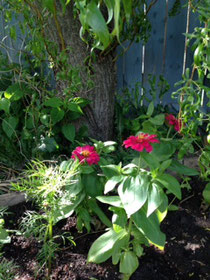 As we enjoy the summer weather it is a time to evaluate and improve the garden.  Notice what is working right now and what needs to be moved.  It is not too late- as long as the weather is not scorching hot..to move something planted earlier that is not thriving.  I planted my Phlox in the shade -it is in partial sun but there is not enough sun for the plant to thrive.  I will move it early in the morning
I can't wait till my Zinnias start to spread..Perhaps it is wishful thinking but I would like to see the cutting garden start to thrive.  As you can see here it has a long way to go.  Unfortunately my seedlings did not do well this spring... Thank you to Price's Country Market for there amazing plants.  They have a great selection of herbs and annuals.  
Find some time to sit back in the garden and to just look at all the beauty that surrounds you.  Focus on the beauty and the sounds of crickets/birds/toads...and listen really listen to the garden.  Make some time in your hectic schedule for some reiki to unwind and relax.