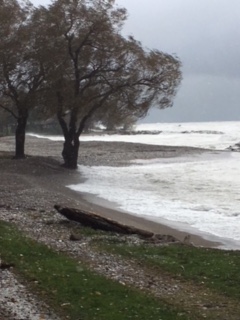 Exploring Ontario's West Coast is a great way to spend your free time.  Although it was extremely windy, rainy and snowy on a recent trip to Bayfield it was worth the trip.  There are many lovely shops and beaches to explore.  The communities are friendly and welcoming.  Goderich and Kincardine are lovely places to visit as well.  
Travelling to the beach is a wonderful way to practice some mindfulness.  Listening to the water and the howling winds allows one to be present in the moment and enjoy the beautiful scenery.
Take some time out before the hectic holidays begin and practice mindfulness.