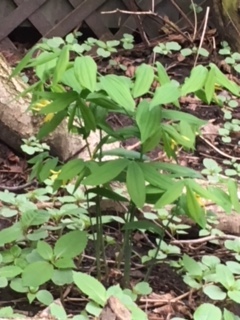 As I write this blog I realize I lately have been the reluctant blogger.  Often I find excuses, chores not to write my blog.  With the delay in summer starting- the warm weather has only just arrived there have been so many chores to accomplish.  Finding quick solutions- yes ready-made baskets at the garden store are an amazing quick fix, especially as the season is so short.  I need great looking plants- thank you Witzkes Greenhouse in Courtice for your amazing flowers.  I have been busy at Richters in Goodwood finding new herbs to add to the garden and am trying a new lavender variety out- I will let you know how it progresses.  For pops of colour in the garden-I have turned to geraniums for instant colour and their hardiness.  
As for unusual perennials -I will have to wait to see how these turn out.  I went to the horticultural sale in Orono and Newcastle and I have some mystery plants- which I can't wait to see how they turn out.  So far the bunnies have not been eating the perennials!
I am excited to offer Reiki courses- Level 1 this summer.  Please contact me for more details.
It is easy to find your reiki practice slowing down in the summer as many people are outdoors enjoying the fine weather and  going on holidays.  However, now you can practice your reiki on your pets -use it outdoors on your garden and family members and friends.