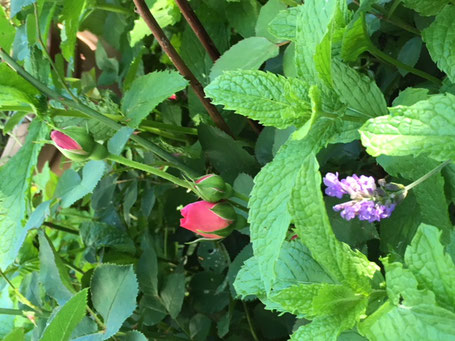 As I explore more companion planting in the garden it seems so natural for the herbs-Mojito Mint and roses with lavender to grow together.  The plants seem to thrive in this mixture and remain relatively pest-free.  I am trying out new varieties of lavender from Richters in Uxbridge.  So far Profusion Lavender is most impressive- an early bloomer- and it keeps on going.
The French Lavender I grow in pots and store in the garage in the winter- and it has done outstanding this year too.  It is just getting ready to bloom.
As July looms near -I look forward to visiting as many lavender farms as I can!  There is nothing more serene and restful then visiting the lavender farms.  The scent is heavenly and calming.
Keep practicing your reiki in the summer!  Now is a time when you can take your treatments outdoors.  Using a zero gravity chair it makes it quite easy and quite relaxing for the client!
Katsura Reiki is busy creating more soaps.  We now have a triple butter lavender one- that is amazing.  I recently make a spearmint exfoliating bar too-very summery.   We will continue to develop more recipes in the summer and are at work on a triple milled bar...