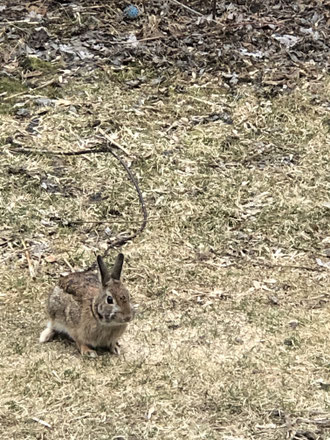 As we continue to cope with the restrictions of COVID-19 and practice social distancing we need to practice some calm in the environment of uncertainty.
At the moment, walking the dog seems to be a great way to enjoy the outdoors yet still practice social distancing.
Connecting with friends and family on a regular basis and live meditations from 10% happier are a great way to spend the time.
Some people are painting rocks in their free time....gardening if possible.  
I spotted this bunny outside my kitchen window eating the birdseed.  He is now a regular.   Signs of spring are starting in the gardens so, we have that to look forward to.  We need to stay positive, reach out to our community and help any way we can in these challenging times.  It is also a time to be grateful for all we have in our lives and of all the healthcare workers who are on the front lines!  Thank you!